Based out of Sayreville, NJ, Veteran JENEVIEVE CRUZ creates a Unique, Fresh, Flavorful, Raw Sound, Full of Energy and Passion.
Cruz, has been singing since she was 3 years old and started writing songs at the age of 15. She wears many hats ranging from Song Writing, Producing, Sound Design for Film/TV, Toplining and Recording other Artists in her Studio. She often turns her poetry into lyrics and plays multiple instruments during the creative writing process.
Cruz also has gained success with her Alter Ego Electronic Dance Music project 'Jenevieve X' reaching Billboard top 10 Club Dance Chart with her single "Move" in March 2015. This also led to collaborations with Dutch music producer Mason and a cover of 'Melt With You' published on Bravo's 'Girlfriend's Guide To Divorce' in 2017.
"Music has always been a passion of mine since I could remember, creating and writing is a spiritual feeling for me, I want to give back that feeling that is given to me when I hear music and lyrics that touch and inspire me."
Influences: No Doubt, Pearl Jam, The Rolling Stones, Nirvana, The Lunachicks and Aimee Echo....
Cruz has shared the stage with Worldwide Band "Fear Factory".
Not only does she Create and Collaborate within Different Genres of Music, she Storyboards, Films and Edits her Music Videos. Cruz started Releasing Music on her Independent Record Label which Launched Nov. 2018 called Corporal Music Group.
About Jenevieve Cruz
Singer/Songwriter | Multi-Instrumentalist | Music Producer | Poet
Jenevieve Cruz performs as a charismatic solo acoustic act, as well as her spoken word poetry locally in New Jersey and the lower east side, NYC. Throughout her solo career, she has had the opportunity to open for "Fishbone" in Santa Monica, CA. Jenevieve was featured in "Urban Ink Magazine" Inked Poets, where they published her poetry as well as an interview with her.
cruz's albums and musical projects
Debut Album "Queen Of The First"
by
Jenevieve Cruz and the Submissives
Alternative, Pop, Rock
Jenevieve Cruz writes all of the lyrics, some are taken from her poetry, others are from life experience.

The Submissives on this recording are:
Ronnie: Guitars
Ngozi: Bass
Nicole: Drums
Giuseppe D.: Piano on "City of Dreams"
Danny and Desiree: Backup Vocals

Produced by Jenevieve Cruz and the Submissives
Mixed by Giuseppe D.

Recorded at
Blue Cyclone Studio, Flemington, NJ Engineer: Billy Mann
The Sanctum, Sayreville, NJ
Mastered by: John Naclerio at Nada Recording Studios, Montgomery, NY
Jenevieve Cruz and the Submissives

Jenevieve Cruz and the Submissives

Jenevieve Cruz and the Submissives

Jenevieve Cruz and the Submissives

Jenevieve Cruz and the Sumissives

Jenevieve Cruz and the Submissives

Jenevieve Cruz and the Submissives

Jenevieve Cruz and the Submissives

Jenevieve Cruz and the Submissives

Jenevieve Cruz and the Submissives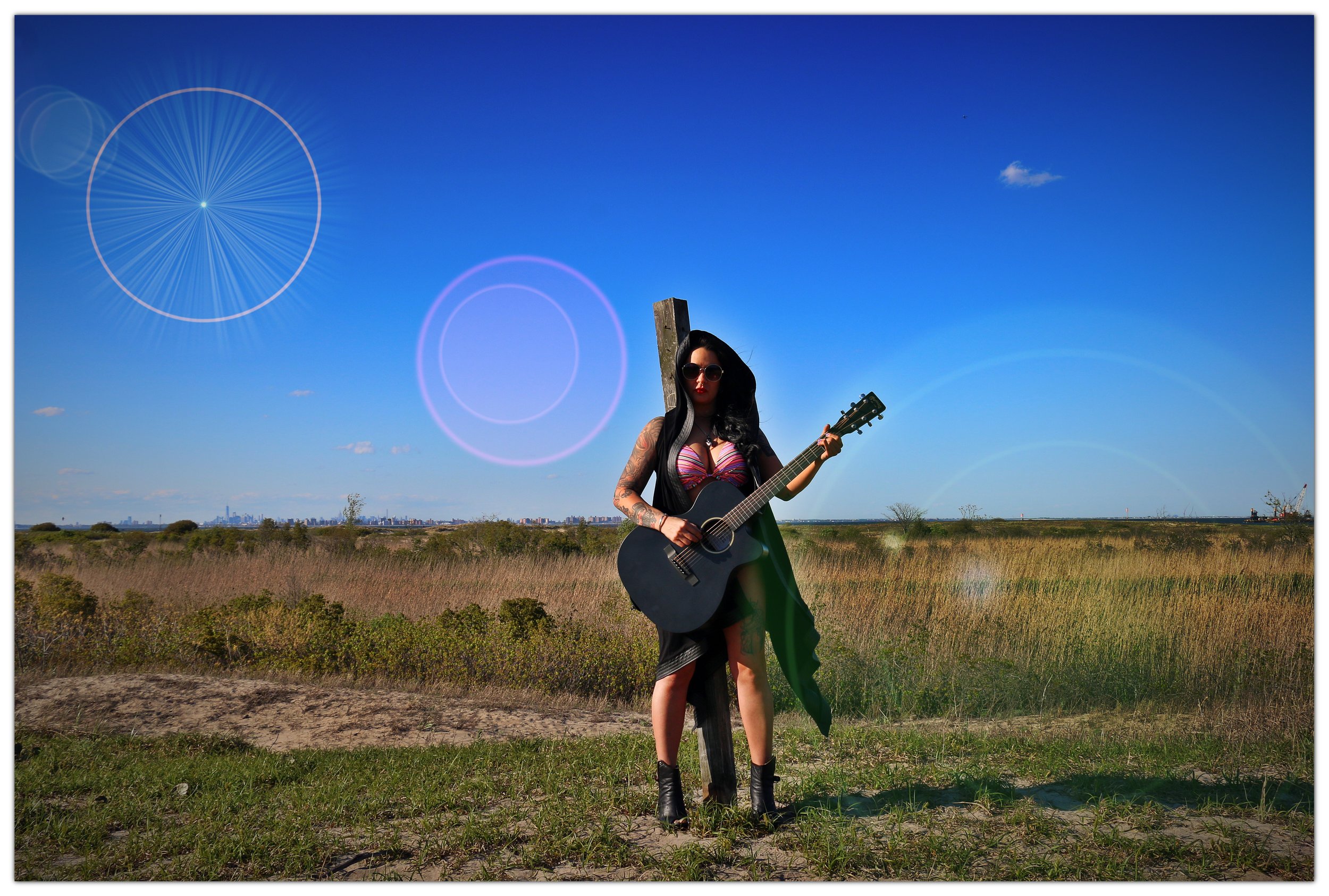 Tour Dates
Date Set Time Venue Address Details
PAST LIVE PERFORMANCES
Fri Nov 8, 2019 7-8pm Espresso Joes (Acoustic) - 50 W Front St. Keyport, NJ All Ages
Sat Aug 24, 2019 4pm-8am Jersey City Pride Parade (Jenevieve X) - Grove St. Main Stage All Ages
Sun Aug 18, 2019 9pm-2am Raise The Bar Lounge (Acoustic) - 117 N. Broadway St. South Amboy, NJ
Mon Jan 14, 2019 5:30-9:30pm The Green Room - 501 Greene St. Key West, FL 21 to drink
Sat March 18, 2017 7pm-11pm Starland Ballroom- 570 Jernee Mill Rd. Sayreville, NJ $15/All Ages
Thurs Feb 2, 2017 4pm-7pm CBGB & OMFUG- Newark Airport Newark, NJ (JCTS Acoustic Performance)
Sat Jan 28, 2017 9pm-12am Cookie's Bar- 2026 S 3rd St. Philadelphia, PA 21 and over
Sat Dec 31, 2016 10pm-1am Hub City Brewhouse- 335 George St. New Brunswick, NJ All Ages-21 to drink
(New Year's Eve!)
Sat Dec 17, 2016 11am-3pm Avanti Day Resort-345 US 9, Manalapan, NJ All Ages
(Acoustic Live Christmas Performance)
Fri Nov 18, 2016 9pm-1am Willie McBrides- 1270 Easton Turnpike Branchburg, NJ All ages-21 to drink
Fri Oct 14, 2016 8pm Sidewalk cafe- 94 Avenue A, NY, NY $10 at the door
Sat Oct 15, 2016 3pm-? The Stanhope House- 45 Main Street Stanhope, NJ $30 - All day festival
(Opening for Unearth, Soilwork and Battlecross)
Fri Sept 23, 2016 8pm-1am Hub City Brewhouse- 335 George St. New Brunswick, NJ All Ages-21 to drink
Sat Aug 20, 2016 8pm-1am The World of Beer- 335 George St. New Brunswick, NJ All Ages-21 to drink
Fri Aug 5, 2016 8pm Starland Ballroom-570 Jernee Mill Rd. Sayreville, NJ $20 All ages
(Opening for Fear Factory in support of the kickoff to their world tour. Presented by WSOU)
Sat July 30, 2016 9pm-1am Willie McBrides- 1270 Easton Turnpike Branchburg, NJ All Ages-21 to drink
Thurs July 14, 2016 5-8pm Porta- 135 Newark Ave. Jersey City, NJ (Acoustic/Electric w/Drums Rooftop)
Sun June 5, 2016 5pm The Stone Pony- 913 Ocean Ave. Asbury Park, NJ $10 All Ages-Doors 1pm
Fri May 13, 2016 9pm Starland Ballroom-570 Jernee Mill Rd. Sayreville, NJ $15 pre-sale tickets
(Opening for National "Guns n Roses" Cover Band "Appetite for Destruction")